I love lemon, lemon ices, lemon pie, lemon chicken. And my favorite lemon has to be the Meyer Lemon. They're even getting a little easier to find these days. At least around here. They are a softer lemon than the regular ones and have less of a pucker! More orange yellow, and rounder, that's how you can tell you have a Meyer Lemon! If I can't find any, I'll add the juice of a clementine to the juice of a lemon to soften the pucker. Similar flavor to a Meyer. Good sub, but you can use any lemon you like for this recipe. It's Meyer season and I managed to find a bunch. When I do find them, I buy a lot and freeze them whole. So we can have them any time of year!
The LA Times had an article that mentioned
100 things you can do with a Meyer lemon
. So many great ideas! I decided to make lemon curd. My friend Linda had mentioned it recently and gave me a craving! You can use it on a cookie, in a tart, as a topping, or just eat it with a spoon. That's what I did. Spoon! I did find a really good use for it after all. Lemon-stuffed French toast! Check back, that's in my next post! But even so, I'll have to make another batch, just for the spoon!
This is the easiest lemon curd recipe I have tried. Practically foolproof. Because even if you screw it up and cook the eggs you can just strain those little bitty pieces out. Won't affect the flavor at all. Or you can eat it lumpy. But straining works. Or resist the temptation to put it in for the extra 30 seconds, this time I resisted and it came out fine!
But is it lemon butter, or lemon curd? I always called it curd, but butter sounds much nicer. Call it whatever you want, I'm calling it good!
Microwave Lemon Curd
Source: ColleenOz, CF
Printable Recipe
4 oz butter (NOT margarine)
3/4 cup lemon juice (about 3 lemons' worth)
all the rind from the lemons, grated
1 cup sugar
4-5 eggs, thoroughly beaten
Put butter, sugar, lemon juice and lemon rind into a microwave-safe bowl. Cook on high about 3 minutes, stirring halfway through. Butter should be melted and sugar dissolved. Let it cool for a minute or so before you stir in the eggs. Add the eggs and microwave in 30-second bursts until it thickens, about 2 minutes. Whisk after each burst. Cool and pour into sterilized jars. Cover immediately. Store in refrigerator. Makes about 3 medium sized jars.
~~~~~~~~~~~~~~~~~~~~~~~~~~~~~~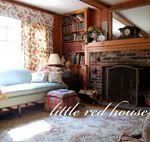 So it's a Sunday when I posted, it's never to late for sweets!